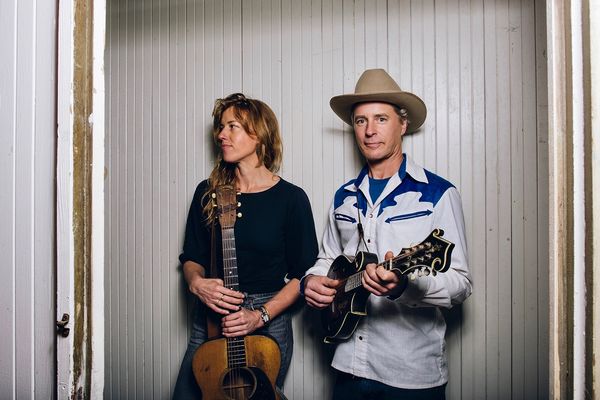 photo credit: Saroyan Humphrey
What do musicians do when they aren't able to perform? 
We are pacing the floor, writing songs, making up tunes. We are teaching private online music lessons in the vein of guitar, mandolin, and singing and anything else we know that people want us to teach them. We're trying to get up the gall to perform to our empty living room via live stream concert. Don't worry, we will do it! Keep your eyes peeled for dates and times. We're playing lots of old tunes and songs. Delving into lost branches of our repertoire. Phoning and video-calling with friends and family. Giving our parents "the talk" to stay home. Gardening and cleaning up the yard. Pacing around our little plot of ground and thanking our lucky stars that we have a yard! We've been cooking up a storm, and Caleb has been mastering the art of sourdough bread-baking. When I told this to a friend she said, "what, is he trying to be even hotter?" We've been having outdoor fires at night, going on walks, cleaning out our garage, going through clutter in the house. I can only guess that after this is all over with, people will have done a lot of things they've been putting off. I always thought that being a musician was a good career to have. Whether times are good or times are bad, people always need live music, and it is a good offering to the world, one that I can stand behind. But who knew we'd find ourselves in the unusual position of not being able to do our work? Strange times. At least our carbon footprint has suddenly and greatly decreased. 
The moment we fully realized the gravity of how this pandemic would affect us, was in early March, the morning after we had flown to DC to start a three week tour with the Foghorn Stringband. Up to that point, nothing had yet been cancelled. We were tentative about our travels to begin the tour, and yet everything was still on. Covid 19 was alive and well, and everybody was being cautious, yet, it wasn't like now, only weeks later, with everybody in various states of home isolation. We had come downstairs for coffee at our good friend Martha's house, and within the hour stuff started cancelling. It was like watching dominos fall. One by one, the emails and calls started coming in from festivals, venues, and promotors, letting us know that they were making difficult decisions to cancel. We can't have been surprised, given all that had been developing, yet it felt like the rug got pulled out from under us as it gradually sank in that we could be out of work for quite a long time. By that afternoon, scarcely 24 hours after we'd arrived in DC, we were driving to the airport, purchasing last minute flights back to the west coast, and Quebec for Sammy and Nadine.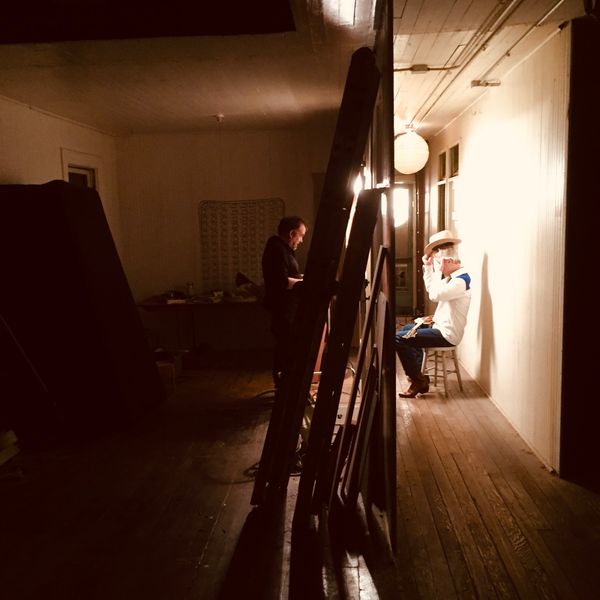 We all arrived home safely, and wondered if we'd come in contact with the virus on our way home. I marked the calendar for two weeks, when we'd theoretically be in the clear. And we stayed home. At that point most all of our three-week tour had cancelled, and at the time that I write this, most of our tour dates have cancelled through July. It's been strange to say the least, being home indefinitely with nothing in particular that we have to do, not even socializing with friends who we would normally make a point of connecting with during our intervals between tours. Circumstances aside, I can't say how many times I've wished for time to just slow down so I could catch up on things or just relax for once, at home at my house, and for a time feel free from the pressures of our fast paced lives that seem to blaze on whether we want to or not. While I could never wish for these circumstances, I guess I am trying to make the best of it, as I'm sure we all are. I am trying to do things in which I find joy, and chip away at those nagging things I usually put off, and relish each day as best I can, and not go too stir crazy. 
So far I don't know anyone personally who has contracted the virus, and it feels eerily like the calm before the  storm. At times I feel anxious and worried, knowing that I will certainly either get the damn thing myself, or know someone who will get sick, and quite possibly lose loved ones or friends before this is all over with. But some days, I decide, maybe I won't turn on the news just yet, and I'll go out in the garden and get the fresh air and sunshine that washes some of the cares away. 
We've probably never had so much uninterrupted home time. One thing that is true is that we are trying not to squander our windfall of free time. I've had my moments of sitting staring at a wall, but that has its place. It feels like a cross between soaking up some much needed time to deeply rest and be creative, and scrambling to scratch up what income we can to get us though. I can say, I haven't had such an ample and regular sleep schedule since I can remember. And there's plenty of time for exercise and healthy eating. Foreign concepts to the touring musician! We are thankful and glad to be safe and at home and have taken time to set up an online lessons scheduling platform on our website where anyone can sign up for private lessons with Reeb or Caleb. We normally don't feel we have the time to offer private lessons with our touring schedule, so it has been fun and rewarding to teach and connect with students. We are also working on recording and filming our catalogue of songs and tunes. And we are talking and thinking creatively all the time of other things we can do to generate income during this indefinite and prolonged period. We send out our thanks and gratitude to all those friends and fans that have offered financial support in various ways: from donations, to merchandise purchases, to booking lessons with us. We are deeply touched by your outreach and concern. 
Here are some ways you can support us if you feel so moved: 
You can buy our albums here. Email us if you'd like mail order a physical copy. You can sign up for lessons with Caleb here, and Reeb here. You can give us a plain ol' donation here. You can keep your eyes out on social media and our webpage for live stream concerts and updates on our music lives. Follow us on Instagram @reebwillms @calebklauder. Follow us on Facebook reebwillms calebklauder 
This is a time of not knowing. We don't know how long this will last or when life will get back to normal. We don't know who among us will be tragically affected by the virus. We don't know when we will get to sit around and play music with our friends again. But, I do hope that we can use this time for good. Find gratitude for what we have, connect with loved ones from afar, take joy in small things, get enough sleep, and take time to be creative and to play music quietly by ourselves. And when we do get back to normal life, maybe it will be better in some ways. Take care and stay healthy and be safe!